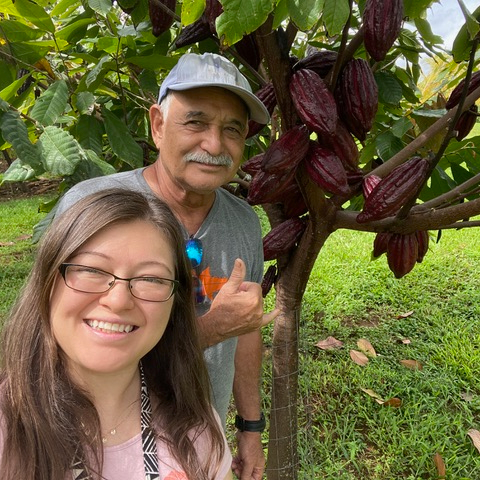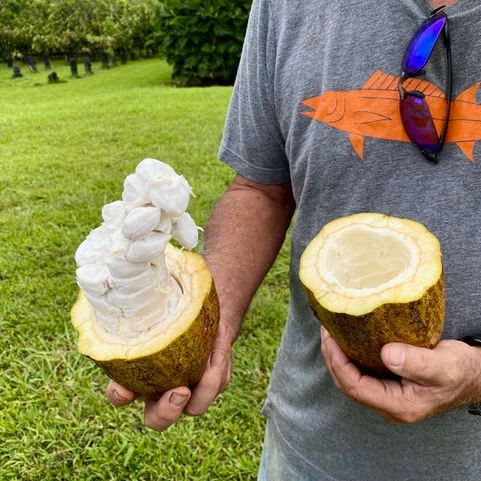 Mahi'ai Made Chocolate
Contact: Formerly Hawaiian Crown Chocolate
, ,
About Us
Formerly Hawaiian Crown Chocolate - new branding! Lovingly Grown and Made in Hawai'i Nei by Local Mahi'ai.
The 100% Hawaiian cacao we use for our chocolate comes from our very own Honoli'i Estate Farm, for a true Tree-to-Bar chocolate experience! We are a "no spray" farm, using agroforestry and permaculture practices to lessen our impact on the land. This is to create a healthier growing environment for our crops, and healthier foods for you!

Our co-founders are Master Mahi'ai (farmer) Tom and his daughter Oona. Tom has been farming on O?ahu, Maui and Big Island over 4 decades, traveling the world to share his experience as a consultant and learn from other cultures. He has been instrumental in cross breeding crops for disease resistance in times of need, and his farms have helped to provide data for research and ag development projects.

Oona managed the opening of their downtown Hilo chocolate factory in November of 2014 and is the driving force behind the rebrand. She is grateful for the privilege of being a 2nd generation farmer and chocolate maker!
Our connections with other local producers and organizations have turned into wonderful partnerships where we proudly share the same goal of supporting agricultural advancement in Hawai?i.
Practices
Encouraging Conservation and Self Sustainable Growth Within the Islands.
Hawai'i is our home, and it is our kuleana (responsibility) to mālama 'āina (care for the land) as much as it cares and provides for us. We strive to balance this stewardship with the growing need for fresh, healthy foods in our communities and to ensure food stability for future generations.

Locally grown. Stone ground. Hand poured.