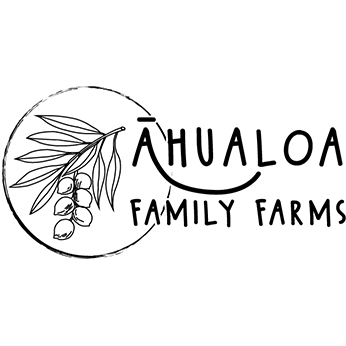 Ahualoa Family Farms
, ,
About Us
Ahualoa, Hawaiian for "Long Cloud," paints a perfect picture of the weather pattern that forms over our town where the majestic Mauna Kea Volcano meets the ruggedly beautiful Hamakua Coast.
Nestled in quaint Honoka'a Town on the Big Island of Hawai'i, Ahualoa Family Farms is a small operation with big ambitions. Our family farm started from a dream and a few backyard coffee and macadamia nut trees. A dream to get out of the hustle and bustle of California and enjoy the truly important things in life: Aloha, 'Aina, 'Ohana.
Practices
With a mild climate and deep soils, we grow macadamia nuts, coffee, lilikoi, Meyer lemons, and juice real Maui onions that we use in our recipes. We only use 100% Big Island Grown macadamia nuts and slow- roast them in small batches to maintain superior quality and freshness.
From our delicious gourmet macadamia nuts, to our perfectly roasted coffees, Ahualoa Family Farms has something for everyone! Every product we grow, produce, and sell is "No Ka Oi" - the best!